All reactionaries are paper tigers. In appearance, the reactionaries are terrifying, but in reality, they are not so powerful. From a long-term point of view, it is not the reactionaries but the people who are powerful. – Mao Zedong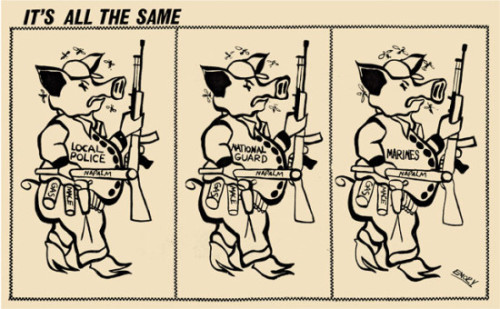 What have the police and the system in Saint Louis learned over the past two years? In the country as a whole? Obviously and blatantly, nothing at all. The masses of Ferguson and the metropolitan area as a whole find themselves still in the fundamental conditions that drove the rebellion that began on August 9, 2014. The masses of black and brown working class youth still find themselves in the same conditions that sparked uprisings in Baltimore, and as we type this statement, in Milwaukee as well. Nothing has changed of importance, the police are fundamentally just as bold, bad, crooked, and bloodthirsty as they have always been, they continue to kill our sisters and our brothers and our people as we go about our day-to-day lives and activities. They won't stop because we ask nicely. Our protest is not to ask nicely. It is a show of strength and mass anger. From Sandra Bland to Philando Castile to Alton Sterling to Sylville Smith to Vonderrit Myers to Korryn Gaines, shot while holding her weapon and her child, it continues and will continue until we seriously organize to stop it once and for all. The liberal nongovernment agencies and foundations and think-tanks and protest parties and electoral voodoo experiments can not save us, only we can. Electing a different alderman, governor, mayor, or President can not save us, Bernie Sanders or Jill Stein or any of the other "leftists" that are running for offices across the country can get there, and the structure and system and economic foundation that holds us in bondage and sends the police to arrest, maim, ticket, fine, and kill us will still be in place.
The police do not just exist to oppress black people, although American police forces originated directly out of patrols that had as their first role the capture and punishment of runaway enslaved African people. The police serve to oppress and maintain an order of things that is against the entire working class, documented and undocumented, black, white, and brown. The police harass and brutalize our trans comrades, they have broken strikes with force, they have spied, disrupted, and helped derail and destroy working class and democratic movements all around the world since their beginning as organized bodies, and they grind down and crush in some way, shape or form those who hav. The state, which is controlled by a class, in our case, the rich, have armed forces and bodies that serve to protect the interests of the class for whose benefit the state is set up. These bodies are the police and military. Neither are to our advantage in any fashion, and only serve to oppress. Our undocumented comrades, whose native countries have been looted and destroyed by the United States for the benefit of the rich, come across hundreds of miles of treacherous desert to be exploited mercilessly, have taxes taken out of their pay for benefits such as Social Security, Medicaid, and other things that they are forbidden from using, and here in Missouri, DACA students have been singled out and have seen tuition rises and have been cast into even more precarious situations as a result of the reactionary and anti-people HB2003 law, which charges them out of state tuition rates to attend Missouri schools. This is a shameful and oppressive nightmare that we, along with our comrades PYO-KC and progressive forces in both cities have united against. The police at the state and federal levels oppress comrades by helping employers who take advantage of their immigration status to exploit them, deporting them, throwing them into miserable holes called prisons, or forcing them to live in limbo, never knowing when they'll be separated from their families by armed force. This is a crime and an affront to all progressive and revolutionary minded people, and we in PYO-STL intend to unite in struggle with our comrades across the state to defend and expand our comrades' rights to education, carry struggle to higher levels, and generate firmer bonds of solidarity.
There can never be any change, at least not the type of change that we must have and that we shall have, unless we unite, organize, and struggle with the guiding and overarching knowledge that it is we, the masses of youth, workers, students, and other segments of people who simply can not continue to live in this way and demand a better future, that make history, and that history can only come about with the ultimate destruction of this system of capital imperialism that leaves so many of us dead in the streets and incarcerated and scarred for life. Our struggle is not for reform, it is not for the mayor's office, it is not for a council seat or a presidency. It is not for simple lower tuition rates, better pay, or free printing. It is not to disarm the police or to put body cameras on them. It is not for more money for this and that program, or for more black and brown and non-male faces in high places. It is a struggle of one class against another, oppressed against oppressor, exploited against exploiter, in which one class or the other will ultimately be defeated. This mass demonstration against the police is not a mere exercise in walking and pithy sign holding, our demonstrations are not jointly planned with pigs and those that do this for pay. We do not protest for protest's sake.  Our demonstrations are shows of strength and force and anger, and have meaning and purpose. The purpose of this demonstration is to continue to expose the contradictions between the police, the system that directs them, and the people. We will continue to organize against the pigs and the pig system, whether the head be Trump or Clinton. We are not scared, we dare to scale the heights, build for revolution and march forward knowing that our class will ultimately be victorious. Join PYO-STL and our comrades in the Greater Saint Louis Anti-Fascist Action Network and others as we dare to take the streets with the full knowledge that we will win!
Long Live the Memory of Philando Castile, Sandra Bland Korryn Gaines, Sylville Smith, Kajieme Powell, Mike Brown, Vonderrit Myers and countless other victims of police murder!
Solidarity with the Milwaukee Uprising!
Hands off our DACA and undocumented worker comrades!
Dare to Struggle, Dare to Win!
Progressive Youth Organization – Saint Louis